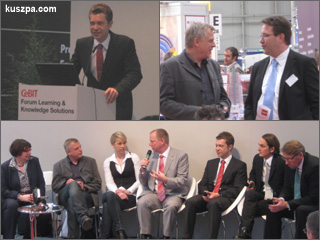 Philipp Maske, Martin Lindner und Volker Kunze sowie die Diskussionsrunde.
CeBIT Forum Microlearning & Microcontent
Am zweiten Messetag der CeBIT 2010 in Hannover waren spürbar mehr Besucher durch die Hallen unterwegs. Und heute stand für mich das Thema Mobile Learning im Fokus, da im CeBIT Forum Learning & Knowledge Solutions ein Vortragsblock zu "Microlearning & Microcontent" stattfand. Die Einleitung machte Prof. Dr. Michael H. Breitner zusammen mit Philipp Maske und anschließend gab es eine Live-Präsentation zu UbiLearn, einem Produkt des Instituts für Wirtschaftsinformatik an der Leibniz Universität Hannover. Darauf folgend sprachen Thomas Jenewein (SAP) zu "Microlearning und Microcontent im Spannungsfeld zwischen Wissenstransfer und Lernen" und Jörn Oelze (New Horizonts) über "Learning at the moment of need – Instant Learning Server". Bevor es dann zu der abschließenden Diskussionsrunde mit den Referenten und der Moderatorin Thea Payome (Check.point eLearning) kam, sprach noch Martin Lindner (wwweblernen.de) über seine Erfahrungen mit Mobile Learning.
Neben den Redner im Forum, war es aber auch ein Vergnügen einige Mobile Learning Experten im Publikum (wieder) zu sehen; Dr. Matthias Kose (mobilinga), Oliver Pincus (afelio) und Volker Kunze (Know How). An diesem Tag hatte ich zudem noch ein paar andere alte Bekannte zufällig getroffen; Martin Hamscheid, Mark Wächter (MWC.mobi), Andreas Rieke (ISL) sowie Dr. Ulrich Winterfeld und Rolf Marta (IAG).