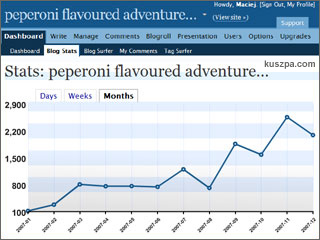 Growth of blog views in the last 12 months.
It feels good when people you meet for the first time start to speak about your blog, but it's a strange feeling they give you thinking they know you well. Sometimes I met business friends that I would never think they use to read blogs, but they somehow also discovered www.kuszpa.com. Other people visit my blog, because they e.g. look for "the hottest party in playa de palma" or want to know "what is magerquark" on google.com – wordpress.com has some fancy statistics :o)
Unlike my last record 'Milestone – Web 2.0 achievements in 6 months' about my blogging adventure, I didn't count all the working hours for building and updating this blog – way too many hours. On the one hand blogging is fun and exciting, but then again it is a little bit exhausting and stressful, because you constantly think that you have to write something – somebody could just wait for a new story.
And here some statistics for my log file:
| | | |
| --- | --- | --- |
| things | 01.07.2007 | 01.01.2008 |
| total views | 3,483 | 13,495 |
| views on best day ever | 205 | 205 |
| total posts | 109 | 181 |
| total comments | 27 | 45 |
| total categories | 35 | 44 |