Archive for Workshop
You are browsing the archives of Workshop.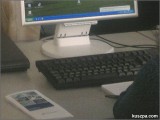 Einführung in die theoretischen Grundlagen. eLearning-Schulungsreihe 2011 des Zentrums für Medien und IT Heute nahm ich am ersten Workshop einer sechsteiligen Schulungsreihe des ZMI der FernUniversität in Hagen zum Thema "(Medien-)didaktische Konzeption von Lehrveranstaltungen" teil. Zur Anfang führte Barbara Getto (Universität Duisburg-Essen) in die Planung des didaktischen Konzeptes ein. Bei  diesem theoretischen Teil des Workshops […]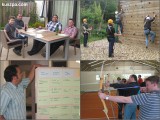 Präsentationen, Arbeitsgruppen, Klettern und Bogenschießen Teambuilding-Aktivitäten in den Niederlanden Dieses Jahr sind wir zusammen in CenterParcs Het Heijderbos in Niederlande gefahren, um uns für das Team ein paar Tage Zeit zu nehmen und dabei nicht nur unsere Herausforderungen zu diskutieren, sondern vor allem den Teamgeist zu stärken. In unseren luxuriösen Eden Ferienhäusern (679/680) wurden einige Präsentationen gehalten und diverse […]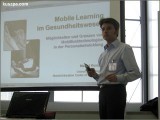 Me :o) Mobile Learning Workshop at Personalkongress I was invited to hold a workshop on Mobile Learning in the health care' (Mobile Learning in Gesundheitswesen – Möglichkeiten und Grenzen von Mobilfunktechnologien in der Personalentwicklung) within the Personalkongress 2008 – Kliniken im Umbruch, Herausforderung Personalmanagement, which was organised by the Hannover Medical School (MHH). I thought […]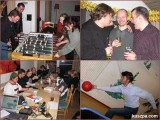 Working, playing, celebrating and bowling :o) Every year our team goes for a 'bigger' workshop where we use to have different sessions and lectures dealing with the work at Peperoni. This time we went for 4 days to CenterParcs Hochsauerland. But beside the work we also had a good opportunity to celebrate and just have […]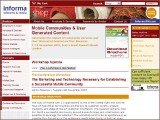 Informa web site about our workshop.  On November 9th, Peperoni will led a post-conference workshop titled "The Marketing and Technology Necessary for Establishing a Successful Mobile Community" before the conference "Mobile Communities & User Generated Content – Determine the Impact of Community Services and User Generated Content on Your Business" in London.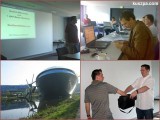 Location, initial hellos from Stefan, workshop and lottery drawing with Christian and Alex. The first WAP-Master Workshop (mobile webtainment event series) hosted by carmunity.de was in the Hotel Atlantic Universum just beside the Universum Science Center Bremen (the futuristic building on the pic). After the initial hellos from Stefan Kathmeyer (carmunity.de) Alexander Repty (carmunity.de) guided us through […]