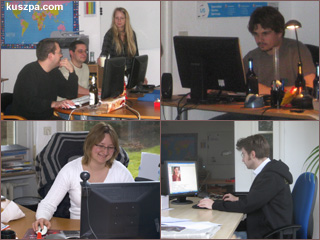 Anna, Thomas, Andree, Sandra, Matthias and me at rating work.
Proactive Moderation is Key for Community Growth
Of course it's hard work and a big issue for all community services, but spending some hours with moderating your community is also always a great possibility to stick around your user base. On the one hand you will see what's going on and you will get a better feeling for the needs of your user. And on the other hand with the user interaction you can provide your community a healthy and welcoming framework and avoid degrading into a dump of spam and ill feeling. We have a team of moderators and regular moderation work every day, but sometimes the team mates from other departments get togeher and arrange a so-called 'Rating Party'. So today we had an exhausting, but also a very informative and amusing day at the office.