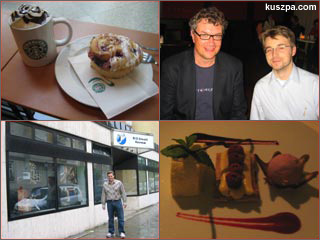 Markus Kling, Starbucks, Russell Buckley an me, my flagitious dessert.
On our journey in Munich we first met our old business friend Markus Kling who used to work for o2 Germany. Now he is an entrepreneur with a company called "movilo", offering medical micro motion study and therapy. Markus seems to do well with his new business, but of course he has lack of time, so we moved on the Sturbucks – as usual for a piece of Berry White Cheesecake – before having the next business meeting. This Cheesecake really good, but I never thought that this little piece of a cheesecake (680 calories) has more calories than a Burger King Whopper with 611 calories :o)
Later on we also met Russell (admob.com) and went to the restaurant "Blauer Bock" for an elaborate dinner. They have a manageable (4 starter and 5 main courses), but very delicious menu for high demands. My culinary highlight was the flagitious dessert "Mus von der Ivoire-Schokolade, Himbeer-Mille-feuilles" (I have no idea how to translate it, – but you can see it on the picture above).