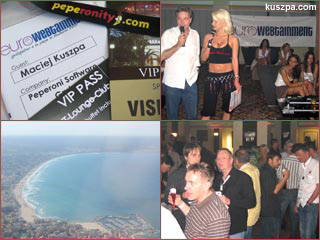 Playa de Palma, registration, Gunnar and Biggi, networking.
Balneario 6, Playa de Palma, Majorca – what a great location for "europe's largest trade fair for Entertainment in Internet, Telecommunication and SAT-TV".  Some weeks ago Gunnar Steger told me about his event called "EuroWebtainment" which take place in Majorca and because I am curious, I went from 10th to 14th May for "Biz & Fun in the Sun" :o)
After the registration and the inaugural address of Gunnar and his co-moderator Biggi Bardot (usually working for the TV station 9Live) we had some welcome drinks on the first network meeting. That evening I also met some old business friends like Christian Kammler and Frank Kiel – you will meet them on almost every event :o)
The event location for this year's Summer EuroWebtainment was the Hotel Playa Golf (Carretera del Arenal, 45, 07600 El Arenal, Majorca, Spain). Unfortunately this hotel was fully booked so I stay in the Grupotel Orient (C/ de la Duna 3, 07600 Playa de Palma, Majorca, Spain).