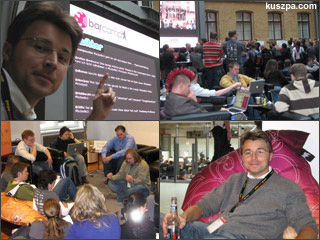 Session, twitter live ticker, the crowd and me chilling with a bionade.
Mobile folks barely present at

BarCamp
The 2nd day of the BarCamp Berlin was quite quiet. No mobile lectures, but a lot of Twitter, Blogging, Tagging and Social Media. However I had some exchange about mobile developments with two mobile entrepreneurs; Daniel Höpfner (ViiF Mobile Video) and Christian Geissendörfer (YOOSE – the mobile wallet 2.0). At the end of the BarCamp I visited a very juicy workshop called 'Landing Page Clinic' with Oliver Berger.