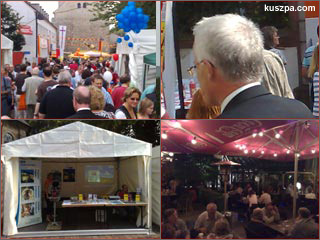 Our pavilion, crowd, Jürgen Rüttgers and the Brauhaus.
Some days ago (Paderborn, we are coming) I was asked to join the representation of the city of Hagen on the so-called NRW Tag in Paderborn. We had a pavilion on the tourism mile in the middle of the city, close to the Paderborn cathedral in Paderborn. This open air festival was quite crowded, we had great weather and our exhibitor team (Friedhelm Erlenhofer and Ursula Wiberg from the tourist department of the city council of Hagen) was in a very good mood :o)
The day was rich on impressions and work, and I even got the chance to see the back of the head of the big political boss in North Rhine-Westphalia, Jürgen Rüttgers.
Unfortunately today I missed the loveparade in Essen. I heard that we had over 1,2 Mio. visitors in our "neighbourhood" and it must have been a great party. Next year I definitely have to get to the loveparade (in Dortmund) …