Pep Team
Some insights on the daily work life of the peperoni team, but also some activities outside the offices.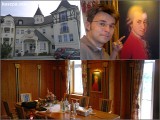 Tagungsraum, Hotel und zusammen mit Mozart 14 Jahre Unternehmertum Dieses Jahr ist das Gründerteam der Peperoni Software GmbH zum Schlosshotel Holzrichter in Veserde-Wiblingwerde gefahren, um dort abseits des Alltags zu tagen. Wie es sich in einem anständigen Management Workshop gehört, haben wir den Schwerpunkt der Tagung auf das strategische Management mit allen drum und dran gelegt; […]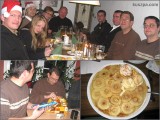 Geschenke auspacken, Weihnachstessen und Apfel-Pfannkuchen. Hof Schulte Saldenberg – Alles aus der Pfanne Nach einer Runde Stollen, Glühwein und Wichteln im Peperoni-Büro, sind wir (Andree, Codruta, Kai, Maciej, Marcus, Oliver, Peter, Sandra, Thomas B. und Thomas P.) anschließend zum Pfannkuchenhof in Witten-Herbede gefahren, um dort ein leckeres Weihnachstessen zu genießen. Ich hatte einen ganz schön mächtigen […]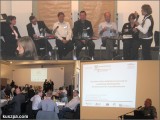 Perspektiven-Panel, Vortrag vom Joachim und die Gäste. Nachhaltige Arbeitsqualität für KMU in der Wissensökonomie Am 24. September 2010 fand die Abschlusstagung unseres Verbundprojekts PRÄWIN in Bremen statt. Im Rahmen dieser Veranstaltung dürften auch wir (Sandra Frielingsdorf, Andree Stracke und ich) von Peperoni einen Vortrag zu unseren Erfahrungen und Ergebnissen des Verbundprojekts halten. Insgesamt ermöglichte uns […]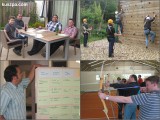 Präsentationen, Arbeitsgruppen, Klettern und Bogenschießen Teambuilding-Aktivitäten in den Niederlanden Dieses Jahr sind wir zusammen in CenterParcs Het Heijderbos in Niederlande gefahren, um uns für das Team ein paar Tage Zeit zu nehmen und dabei nicht nur unsere Herausforderungen zu diskutieren, sondern vor allem den Teamgeist zu stärken. In unseren luxuriösen Eden Ferienhäusern (679/680) wurden einige Präsentationen gehalten und diverse […]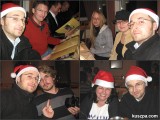 Matthias, Thomas, Kai, Frank, Sandra, Codruta, Broni and me. Dinner with my peperoni team My third christmas party this year was together with my team mates from Peperoni. After doing a secret Santa at the office we went for a nice dinner at the Restaurant International.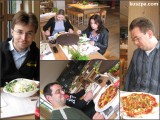 Me, Anna, Broni, Andree, Marcus and Thomas at lunch. Italian flair at the lunch break Short post, but yummy italian food today :o)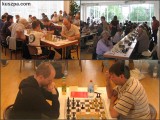 The tournament and Frank against Mikhail Peperoni member at chess tournament This week the Sparkassen Chess Meeting 2009 is taking place in Dortmund. Today our team mate Frank Karger (SC Hansa Dortmund) was playing against Mikhail Tchetchelniski (Bremer SG von 1877). After seven rounds Frank was already on the 21st position in the tournament ranking.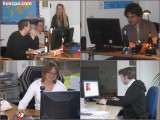 Anna, Thomas, Andree, Sandra, Matthias and me at rating work. Proactive Moderation is Key for Community Growth Of course it's hard work and a big issue for all community services, but spending some hours with moderating your community is also always a great possibility to stick around your user base. On the one hand you will see […]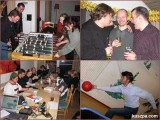 Working, playing, celebrating and bowling :o) Every year our team goes for a 'bigger' workshop where we use to have different sessions and lectures dealing with the work at Peperoni. This time we went for 4 days to CenterParcs Hochsauerland. But beside the work we also had a good opportunity to celebrate and just have […]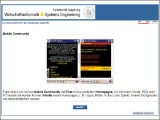 The Mobile Commerce Working Group of the University of Augsburg is making a survey about mobile viral Marketing. They also focus on mobile Communities and they pointed out peperonity.com as an example for a mobile Community :o) Here is the German-speaking press release: Universität Augsburg führt eine neue Verbraucherstudie zum mobilen viralen Marketing durch Augsburg – Wann […]