Maciej
You are browsing the archives of Maciej.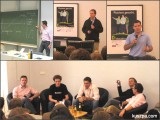 Target Partners Workshop, Michael Brehm, Felix Haas and the VC Panel. IdeaLab! workshops, lectures and discussions The last day of the IdeaLab! at the WHU started for me with a workshop hosted by Target Partners GmbH. Olaf Jacobi – not only venture partner, but also an experienced entrepreneur – run this very interesting workshop about […]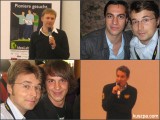 Stars of the German Internet Industry: Lukas, Ehssan, Kolja, Oliver an me :o) IdeaLab with lectures of internet entrepreneurs After the opening speech of Prof. Dr. Martin Fassnacht, prorector of the Otto Beisheim School of Management (WHU), Oliver Samwer (European Founders Fund GmbH) spoke about the effects of the financial crisis on start-ups. The climate will be tough, but […]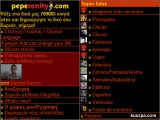 peperonity.com in Greek and Spanish Today we launched three new languages, so now we have peperonity.com in 10 languages; German (Deutsch) [2000.01.12], English [2000.01.12], French (Français) [2007.04.19], Italian (Italiano) [2007.06.29] Portuguese (Português) [2007.06.29], Polish (Polski) [2007.12.18], Russian (Русский) [2008.05.13], Spanish (Español) [2008.07.15], Romanian (Română) [2008.07.15] and Greek (Ελληνικά) [2008.07.15]. This time our team mates Ines, Panos and Codruta were making […]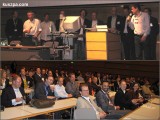 The audience and the 9 demo show companies.  Mobile Monday Demo Night in Munich It was my first MobileMonday DEMO NIGHT, so I was quite curious what we can expect from the MoMo team Munich this time. At this event 9 companies got the chance to present their product, service or technology in a 5 […]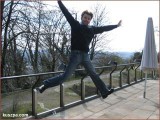 You can sense the coming of spring. Jump into the spring Just for fun… today we had a noticeable beginning of spring… Amazing, because some days ago we still had snow in Hagen, but today it was very warm with sunshine :o)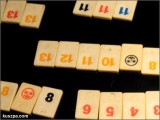 Some of the tiles and two joker-tiles. No you can't always win This evening two young ladies challenge me on this game called Rummikub, that I haven't played for years. Rummikub is a tile-based game for two, three or four players. Main component of this game is a pool of 106 tiles and the goal […]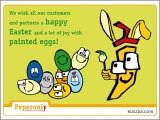 The peperoni easter 2008 greetings card (by Anna). I wish all my readers and curious visitors  A Happy Easter and pleasant Easter Holiday Season 2008!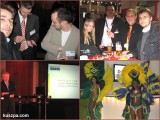 August-Wilhelm Scheer, Gabriel from aka-aki, Peperoni mates and the Olá Brasil party :o) Trade show and Innovators' Pitch And like every year CeBIT is coming and again we are going to Hanover. Before runing around in all of the exhibition halls, I went to the 'Innovators' Pitch Business' organized by BITKOM e.V. This event helps young companies to find venture […]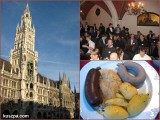 Neues Rathaus Munich, MoMo guests and Bavarian food. MoMo – OPEN Portals, Platforms, Communities Before the MoMo I just couldn't resist to go for some tasty Bavarian food. So I went to the 'Zum Spöckmeier' – close to the Marienplatz – for a great plate with liver sausage, blood sausage and Bavarian veal sausage. Yummy :o) On […]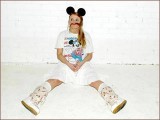 Today I got this funny mail with a riddle: Is it a Micky Mouse or Matylda? The resolution can be found on the blog of Matylda Krzykowski: One day, years ago, I found myself fascinated by design. Saying to myself – I can be where I want to – I can do what I want to […]